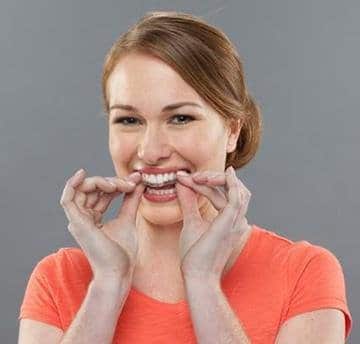 Invisalign® Orthodontics
Invisalign orthodontics is a system of removable, clear aligners which are worn over teeth day and night to gently shift them into place. No wires are used, bestowing these unique benefits:
Natural aesthetics.
Food-friendliness.
Ease of cleaning.
Subtle for Your Social Life
Want a fast smile upgrade that won't broadcast your treatment? Invisalign orthodontics are nearly invisible. Most people will not suspect there is anything different about you. Your new smile can be ready in as little as 6 months, yet the shifts will be too gradual to attract special attention from your friends.
Tailored to Your Mouth
An iTero Element scanner takes a 3D survey of your mouth. This advanced technology replaces the need for molds, which some dental clients prefer to avoid. Precise software developed with expert orthodontists then analyzes the position of your teeth according to a suggested treatment plan. Invisalign creates custom aligners from SmartTrack material, which further ensures a great fit.
Your aligners are individually trimmed to remain above your gum line. They should not touch your sensitive flesh. This extra step helps the aligners feel comfortable and look great.
Living with Invisalign
While the aligners may be a secret to everyone but you, they need to be your constant companions. For best results, you will need to keep your aligners installed over your teeth for approximately 20–22 hours a day. You sleep wearing them. Do you have the discipline and memory to always put them back on?
If you're considering Invisalign treatment for your teenager, teen aligners have blue compliance strips for parents to check that they are being worn enough.
The initial week or two will be a transition for your mouth as your teeth get used to the new fit. Any discomfort will get better. Fourteen million other people have completed their treatments.
Choose Your Own Breaks
Each treatment plan will last 6–18 months; however, you can remove your aligners at any time. Access to your teeth whenever you need it can help maintain both your preferred diet and cleaning routine. You can just pop the aligners off your teeth, store them discreetly, eat, brush, then put them back on. No need to brush if they were removed for a special occasion.
Cleaning Your Teeth
You will not need any new tools or techniques to clean your mouth well. Floss, your favorite toothbrush, and regular mouthwash are all compatible with Invisalign treatment. Use them how your dentist taught you, and you are good to go!
Cleaning Your Aligners
You will need to invest a little time each day towards the care of your aligners. Invisalign has two cleaning options to keep your aligners clear, sterile, and smelling fresh:
Crystals.
Foam.
Cleaning Crystals are used with a container deep enough to fully immerse your aligners in warm water. When not in use, the crystal packets should be stored in a cool, dry place.
This is how you can use Invisalign cleaning crystals:
Rinse your aligners.
Submerge them in warm water, and pour a packet of cleaning crystals into the bath.
Seal your container to gently shake the water for 20 seconds. This will mix and dissolve your cleaning crystals.
Wait at least 15 minutes. Longer is optional.
Gently shake for 20 seconds again.
Remove your aligners.
Thoroughly rinse your aligners with warm water.
Place your aligners back in your mouth.
Rinse your container with warm water as well.
Cleaning Foam can be used up to 4 times a day. This is a very compact and portable option, as the foam dispenser is only 1.85 fluid ounces. There are two ways to clean with the foam.
Method 1:
Dispense the foam evenly in each of your aligners.
Place foam-filled aligners on your teeth.
Spit out any excess foam in your mouth.

No need to rinse!
Method 2:
Place your aligners in a carrying case or another container
Cover them with cleaning foam for 5 minutes.
Gently brush and rinse your aligners before returning them to your mouth.

Or simply place the aligners back in your mouth and spit out excess foam.
Eating with Invisalign
Special dietary restrictions or recommendations are not required with Invisalign. Because your aligners are removed before you eat, you will not need to worry about cracking them while chewing hard foods, or about gumming them up with soft, sweet foods. The full spectrum of our culinary world remains yours to enjoy!
Dentist Visits
You will want to visit with your dentist about once every 2 months to check in on your progress. Changing aligners between each visit can be done every 1–2 weeks on your own. If this sounds like a good fit for your lifestyle and dental goals, contact Drs. Caleb and Megan Beam today to learn more!