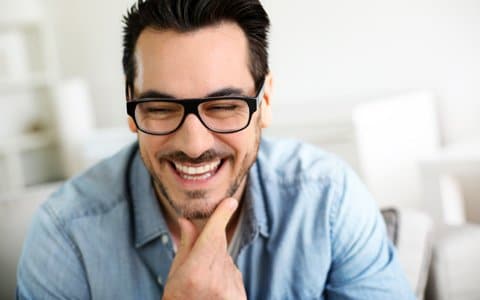 There are quite a few options for the replacement of missing teeth, including bridges, dentures, and partial dentures. For a permanent tooth replacement that will not only restore complete function to your mouth, but do it beautifully, consider a dental implant.
Implants are one of the most popular options available today. They are durable, stable, and easily-maintained. With modern technology and equipment, we are able to create a synthetic crown which will look, feel, and function exactly like any other tooth.
What is a Dental Implant?
Implants are a three-piece appliance that effectively and durably replaces any missing teeth.
Part 1 | The first piece of a dental implant is the root. This root takes the form of a titanium rod, which is placed directly into your jawbone.
Over time, this titanium will actually fuse right to your bone. Just as in other medical procedures that use titanium to repair bone injury, this fusion will make the implant extremely sturdy and durable.This fusion takes approximately 3–6 months, after which the implant will remain strong and healthy for the rest of your life.
Part 2 | The abutment piece attaches to the top of the implant rod. This is a connector, which allows the crown to stay anchored to the root.
Part 3 | Finally, we place a crown. This synthetic tooth will be custom-designed to perfectly fit your mouth. It is color-matched, completely natural-looking, and individual to you.
Restorations
While the material and design of a dental implant has been proven to last over thirty years and counting, they are still able to be damaged through injury or accident. If this has happened to you, we'll have you and your implants feeling as good as new in no time.
Call Today
If you have a missing tooth or teeth, give Fairchance Dental Arts a call. Our implant procedures will allow you to speak clearly and eat normally once again, with that complete smile you deserve.
Fairchance Dental Arts will repair or replace the above work done for a period of 60 months from the date of insertion. This applies if the restoration has failed or has been determined to be unsatisfactory by both the patient and the dentist. This policy will only be upheld if the patient has maintained the proper recall that is appropriate to his or her customized care.