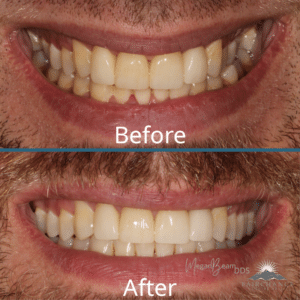 Orthodontics is a dental specialty that deals specifically with the alignment of the teeth and jaw. There are many benefits to correcting and straightening your teeth. Though you may only be interested in straightening your teeth, at Fairchance Dental Arts, we practice excellent orthodontics to improve your overall oral health.
One of the preferred orthodontic treatments we use is Invisalign® aligners! These clear and flexible aligners have been used by over 12 million dental patients of all ages for straighter teeth, a better bite, and a smile they are proud to show off.
No Need To Settle For Less Than a Great Smile!
Whether you have crooked or overcrowded teeth, this state-of-the-art dental treatment is a great alternative to traditional braces because:
It can have a shorter treatment time.
You can easily remove them.
They are practically invisible.
There aren't any wires involved!
There are several problems that can be addressed through our Invisalign treatment:
Crooked Teeth | Whether you have a minor or a more severe case of crooked teeth, Invisalign will likely be able to correct it. Or if you had braces before and some of the teeth have slipped back out of place, we can help.
Severe Over/Underbite | When the teeth don't align closely enough, activities as simple as chewing become much more difficult and speaking can become inhibited as well.
Overcrowding | Overcrowding happens when there's not enough space for all of the teeth. This lack of jawbone space causes adult teeth to grow crookedly or not at all.
Aesthetic Issues | Invisalign can improve dental imperfections such as severe gaps or teeth that don't properly line up.
Optimize Your Oral Health
Misaligned, crooked, missing, or overcrowded teeth can create a variety of problems with your dental health. A poor bite can make chewing food difficult and eventually cause problems with your stomach and digestion. Gaps and crooked teeth can lead to cavities, and overcrowded teeth can create problems with your gums.
TMJ (temporomandibular joint) problems can arise if your teeth interfere with how your jawbone opens and closes. Misaligned or overcrowded teeth can create chewing problems that can later lead to jaw pain that may eventually need oral surgery to correct.
Align Your Smile With Invisalign
Don't hide your great smile anymore! With Invisalign treatment, you can begin to see noticeable results in just a few weeks. Invisalign treatment offers the following advantages:
Quick & Efficient | Invisalign aligners are made with a durable yet flexible plastic. They are designed to put just the right amount of pressure at the exact place and time to straighten your teeth and bite faster.
Comfortable & Discreet | These clear aligners are practically invisible so most people will never even notice you are wearing them! Enjoy the freedom of smiling as big and often as you like during the teeth-straightening process without the extra attention.
Removable & Flexible | One of the best things about Invisalign clear braces is that you can take them out for meals or snacking – no worrying about what you can and can't eat. And you can remove the aligners to easily clean and maintain them.
How Does The Invisalign Treatment Work?
Your First Invisalign Design Consultation
At your first Invisalign visit to Fairchance Dental Arts, our specially trained Invisalign dentist will carefully examine and evaluate your smile and bite. This examination will include a 3D digital scan of your mouth, which replaces the old-fashioned putty impressions, and that checks:
Your teeth
Your gums
Your jaw
Your bite
From these scans, we'll make a quick and accurate 3D digital model of your mouth that will be used to show you a step-by-step plan of how your teeth will be gently corrected and straightened.
Creating Your Personalized Invisalign Aligners
At Fairchance Dental Arts, we take great care in crafting custom Invisalign clear aligners that are specifically designed for your unique dental needs. Our state-of-the-art 3D printing process ensures that each aligner fits your mouth and teeth with precision and accuracy, giving you the most comfortable and effective treatment possible.
Wearing Your Invisalign Aligners
To achieve optimal results, it's important to wear your Invisalign aligners for 20-22 hours each day. Our experienced dentist will guide you on when to switch to the next set of aligners as your teeth gradually shift into their desired position. Trust us to help you achieve your dream smile with our expert Invisalign treatment.
Tips for a successful Invisalign treatment:
Remove your Invisalign aligners whenever you eat.
Don't smoke while wearing your aligners to avoid staining them.
Don't chew gum with the aligners in – it may stick to the plastic material.
Invisalign clear aligners will remain snugly fitted around your teeth whenever you wear them and for most activities. We can answer any questions on proper wearing and care of the aligners.
Level-Up to Your Next Invisalign Aligner
You'll change to a new set of aligners every 1–2 weeks as part of the treatment process to move your teeth comfortably and predictably into the desired alignment.
The treatment also includes regularly scheduled visits to our office so that we can monitor the exact process of how your teeth are being straightened. Any needed corrections will be made at that time to ensure that your Invisalign aligners maintain a secure fit and are comfortable to wear.
Are Your Aligners Working?
Your Invisalign treatment works its magic by applying gentle yet consistent pressure to shift your teeth into their desired position. While you may experience some discomfort or pressure during the first few days of wearing your aligners, rest assured that this is a normal part of the process. It's a sign that your aligners are doing their job to carefully and steadily transform your teeth and mouth to give you a great smile..
As your teeth slowly but surely shift with the help of Invisalign aligners, you may notice that the aligner feels slightly loose when you remove it. This is perfectly normal and is a result of your gums and mouth gradually adapting to the new position of your teeth.
Amazing atmosphere, friendly staff, and excellent dentists. Dr. Megan made my dreams come true with my smile and I couldn't be happier. Highly recommend, I have severe dental anxiety and felt calm every time I've been here. I would give 10 stars if I could!
– Kayla G.
Commonly Asked Questions About Invisalign Clear Braces
My Aligner Broke—What Do I Do?
If an aligner becomes damaged or broken, our team will make sure you stay on track with your unique dental treatment plan. While a new replacement aligner set is being made, you may need to wear an earlier set of aligners to maintain your unique teeth straightening process.
How Do I Care For My Aligners?
Proper care of your Invisalign aligners includes regularly brushing and rinsing them in lukewarm water. Keeping your teeth clean will help make sure the aligners fit snugly and prevent them from becoming stained. It's important to maintain your oral hygiene during treatment.
Is Invisalign Treatment Right for Me?
Invisalign clear aligners are a great choice for busy people who want a great smile and bite and who want the benefit of the discrete treatment.
When you first begin wearing your Invisalign aligners, it's common to experience an adjustment period as your tongue adapts to the new addition in your mouth. This may initially affect your speech, but don't worry – this is only temporary and your speech will soon return to normal as you become accustomed to wearing them. Rest assured that this temporary inconvenience does not mean that Invisalign aligners won't work for you.
What Are Invisalign Trays Made Of?
The aligners are made out of a specially-formulated acrylic plastic called SmartTrack that has many features:
The strong, yet soft plastic formulation is ideal for creating a gentle and consistent pressure that gradually nudges your teeth to the right location. This material is completely safe and non-toxic.
The clear material is almost invisible and almost no one will notice them.
Invisalign aligners are comfortable and easy to remove and put back on.
Invisalign aligners are lighter than traditional metal braces, brackets, and wire and more comfortable to wear.
Your aligners are custom-made for your teeth and mouth.
I Previously Had Braces – Will Invisalign Still Benefit Me?
If you previously had any orthodontic treatment and your teeth have shifted since, Invisalign clear aligners are a great, nearly invisible option to bring back your smile and confidence.
How Affordable Is the Invisalign Treatment Process?
Invisalign clear aligners cost about as much as traditional braces depending on how much your teeth need to be adjusted and how many aligners you will need to make the needed changes. The Invisalign treatment process often requires fewer visits to the office, which helps lower the overall cost.
We can coordinate with your insurance provider to verify if your insurance company offers any discounts towards treatment.
How Long Will the Treatment Take?
We'll create a customized treatment plan that caters to your individual dental needs and goals. You will begin by wearing your first set of Invisalign aligners for 20-22 hours a day. After approximately 1-2 weeks, you will switch to the next set of aligners that are specially designed and custom-fitted to fit your teeth perfectly. This gradual progression will continue until you achieve your desired smile.
While the duration of your treatment will depend on various factors, treatment can typically last anywhere from 6-18 months. The treatment time is affected by:
Case severity.
Your diligence in wearing your aligners.
How closely your teeth follow your prescribed treatment plan.
Whether any prep work (like extractions) needs to be completed.
Will My Invisalign Results Last?
Once your treatment is complete and your teeth are realigned, your dentist may recommend wearing a retainer to keep your teeth in perfect alignment and prevent them from gradually shifting back to their original position. This device would only have to be worn at night and would serve to keep your teeth in their proper locations and to maintain your straight smile. We will also assess the overall function of your tongue and offer solutions that can help maintain your beautiful smile for a lifetime.
See How Invisalign Can Improve Your Smile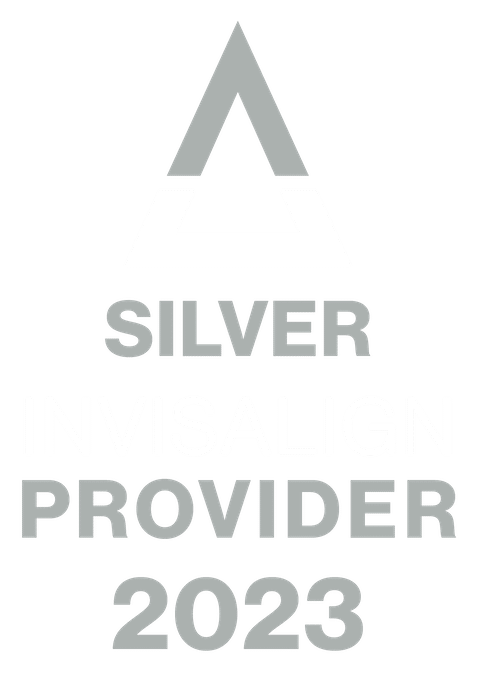 Are you wondering how Invisalign could improve your smile? Would you like to see what your smile would look like with straighter teeth or how your bite can be better aligned? We provide a smile simulator that you can use to see how an Invisalign treatment can improve your teeth. Check out this Smileview simulation link to see now for yourself.
COME TO FAIRCHANCE DENTAL ARTS FOR ALL OF YOUR ORTHODONTIC NEEDS.
A straighter smile is possible. Contact us today to discuss what's possible for patients from Morgantown WV up to Uniontown PA.
All orthodontic services are provided by a general dentist with extensive post graduate training in orthodontic care.