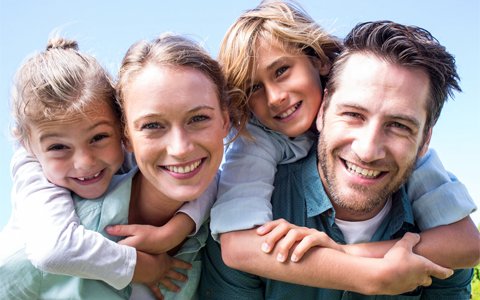 It can be hard to find a local dentist who can take care of all your dental needs, from a simple dental cleaning to a complete smile makeover. Regular visits to the dentist protect your teeth and keep unwanted dental problems at bay, but where can you go to get your whole family treated in one place?
At Fairchance Dental Arts, we don't just want to fix your teeth, but our focus is to help them stay that way. Many patients are nervous about visiting the dentist, so we want to make sure your experience in our office is relaxing and comfortable. We want to help you reach your optimal oral health and to be your home for a beaming smile.
Why Choose Fairchance Dental Arts?
Our wide range of dental services makes us your one-stop practice for all your dental needs. Our comprehensive dentistry can address a variety of oral health issues from infected root canals to sleep apnea. Our compassionate and professional techniques are well-suited for all your general dentistry needs.
We aim to be your home for a beaming smile. That's why we are dedicated to providing you with high-quality care and service. We customize each one of your dental visits to help you feel as comfortable as possible during your visit. You are our family and we want you to have a wonderful dental experience.
To promote straight smiles at every age, we offer:
Gentle cleanings.
Exams.
Pulpotomies.
Tooth extractions.
Phase one orthodontics.
We aim to change your perception of dentistry. We do everything we can to create a fun and friendly atmosphere with plenty of humor.
Our dentists always develop meaningful relationships with each of their patients. Your child's oral health can have a strong start when you schedule pediatric dentistry with Fairchance Dental Arts.
Quality will always be #1 for us! We invite you to join our dental family at Fairchance Dental Arts and take advantage of our services in one convenient location.
What You Can Expect at Our Office?
When you come in, you can rest assured that we will take the time to get to know you and what you need so we can cater to your smile. We're here for your family and your smiles. Schedule an appointment with us today for whatever dental treatment you need!
Patient Reviews:
Don't take our word for how much we care about your teeth—here's what some of our patients have to say:
"Everyone in the office was professional, friendly, and knowledgeable! It's a comfortable environment. Everything was explained to me so I could understand it. You can tell everyone enjoys their jobs and works well together!"
– Ashli G
Stay On Top of Your Dental Health
It's important to protect your whole smile—from the teeth to their roots, and from the gums to your tongue. You can do this by practicing daily oral care and keeping on top of dental checkups.
Some aspects of a good oral health routine will help any smile. These things include daily care, routine professional checkups and cleanings, and a healthy diet.
Here's a basic routine to help keep your smile sparkling:
Brush: Brush twice a day for a good 2 minutes. While brushing, try to focus on each quadrant of your mouth for about 30 seconds each. For even better results, hold your brush at a 45-degree angle to your tooth's surface and wait at least an hour after eating before brushing your teeth.
Floss: Flossing can be a fun part of your routine! To protect your gums and the cracks between your teeth, you should be flossing at least once a day. For best results, floss right before bed so your teeth are nice and clean while you sleep.
Rinse: After brushing and flossing, rinse with a mouthwash or fluoride. Make sure to swish it around in your mouth for 30 seconds before spitting it out. This step helps to further protect your teeth from bacteria between brushing. Your mouthwash also keeps your breath smelling great.
Regular Checkups: Make sure to visit Faircahnce Dental Arts for professional checkups and cleanings about every six months. Unfortunately, even the best home toothbrushes can't get all the plaque off like professional dental cleanings can.
Importance of Dental Visits

A trip to the dentist can prevent costly and possibly painful procedures for your oral health by stopping the problems from occurring in the first place.
We suggest coming to see us every six months for a checkup and cleaning to keep your teeth and gums healthy.
However, if any more immediate tooth pains or dental problems arise outside of these semi-annual visits, you should come to see us for those issues right away just to make sure there aren't any underlying factors. There is no dental emergency too small.
What To Expect During Your Visit
Our goal is to give you the best and most comfortable dental experience every visit. We want our patients to enjoy their time with us and look forward to coming back. Here is what you can expect from a regular checkup with our dentists:
Dental Imaging: For each regular checkup, we'll begin by taking digital x-rays and images of your teeth. These images will help us to get a better picture of what is happening under the surface of your teeth. Our dental team will help walk you through each step of imaging before taking the pictures.
Oral Health Exam: After we have the beautiful pictures of your teeth, we will give you a full examination of your teeth and gums—including an oral cancer checkup. Our dentist will talk you through each part of the oral exam to make sure you're completely comfortable in the dental chair.
Dental Cleaning: Our dentists will carefully clean all of your teeth and between all the spaces for a fresh feeling. We do this by removing any mineral buildup and then polishing your teeth to help get your teeth back to their natural sparkle. We will finish your visit with a fluoride treatment to improve the health of your teeth and prevent cavities or other dental decay.
Recommendations: Before you go, we'll discuss more recommended habits and send you away with anything you need to keep your teeth in good shape. Our dentists will always walk you through their reasons for recommending you any further procedures or dental work. That way you are always in the know about your dental hygiene.
We also believe this includes being as informed as possible about your oral health. Your dental checkups are a great time for you to bring up any questions or concerns you may have had over the last six months. Feel free to ask us any question—big or small—and our dental team can help give answers and suggestions to help improve your oral health.
In addition to regular exams and cleanings, you might need one of the following procedures to keep your teeth healthy:
Cavity fillings.
Sealants.
Dental implants.
Oral cancer screenings.
Dental crowns.
Porcelain veneers.
Tooth whitening.
Before our dentists begin any procedure, they will walk you through what to expect during the treatment and how much it will cost you. That way you can go into the treatment fully informed of your decision.
Amazing first visit experience! The office staff was so welcoming, pleasant, and friendly, as well as helpful with my insurance. I felt comfortable and relaxed throughout my visit. I also feel that I received both a thorough cleaning and examination. It was my pleasure to meet Dr. Caleb. I appreciate the time he spent to get to know me. I highly recommend Fairchance Dental Arts for your family's dental care!
– Patricia K.
Common Dental Issues We Treat
Toothaches
Toothaches are a common reason for a dentist visit. You can help relieve the pain of these problems at home with an ice pack or some over-the-counter medications, but that won't be enough to fully treat the source of your toothache.
Toothaches are not fun, and—to make problems worse—they can be caused by many things:
Food stuck between teeth.
A bacterial infection.
Damaged fillings.
A broken tooth.
Tooth decay.
An abscessed tooth.
We can help treat all sorts of toothaches, no matter the cause. Our dental team will do a physical exam to help locate the cause of your toothache. Then we can treat the problem by giving you a cleaning, a dental filling, or even a new crown.
Plaque and Tartar
Dental plaque is a thin film that forms on your teeth when you eat, created from a combination of the bacteria in your mouth and the contents of your food.
Unfortunately, we all deal with dental plaque. You can remove some of the build-up of plaque on your teeth by brushing twice a day with fluoride toothpaste. Daily flossing and using an antiseptic mouthwash will help to keep bacteria at bay in hard-to-reach areas.
When Does Plaque Become Tartar?
If dental plaque hardens, it turns into tartar—which can only be removed with professional dental tools. Tartar can lead to more severe dental problems such as gingivitis (gum disease) and dental decay (cavities). Plaque can also gather under your gums and attach to the roots of your teeth leading to the breakdown of the bones that support your teeth, leading to adult tooth loss.
Though you can't completely avoid dental plaque daily, you can minimize the problem by having a good daily brushing and flossing routine. Then treat those hard-to-reach areas by seeing our team for your regular checkup and dental cleaning.
Cavities
You've likely had a cavity before, but maybe you don't even know what a cavity is. Dental cavities are small holes of dental decay in your teeth that form when plaque in your mouth erodes the enamel on your teeth.
People of all ages can get cavities. They can be hard to find on your own since most signs of a cavity occur after it's too late to fix the issue yourself.
Watch for the following signs of a cavity in your teeth:
Ongoing toothaches.
Staining on your tooth.
A hole or pit in your tooth.
Hot and cold sensitivity.
Sensitivity to sweets.
Cavities, or any amount of tooth decay, can affect all layers of a tooth. Your tooth has 3 main layers, and decay can progress quickly from the outer hard layer through to the innermost layer which contains the nerve endings and blood supply—in other words, the really sensitive part of your tooth.
Unfortunately, cavities won't go away on their own. Even if the cavity is very small, it will get worse over time without treatment. If you are experiencing the warning signs of cavities, make sure to schedule an appointment with our dentists for a filling.
Fillings
Filling a tooth involves the removal of the decayed or damaged portion of the tooth. This space is then filled with a material that guards your tooth against additional damage. The filling also restores the functionality of your natural tooth.
When you are getting a filling, first, our dentists will clean out any bacteria that are contributing to the decay. Then once the decay has been cleaned out of your tooth, they'll smooth out the hole left by the cavity so the filling will adhere securely to your tooth. That way you don't have to worry about bacteria invading your natural tooth anymore.
Getting your tooth fixed will prevent bacteria or plaque from building up inside cavities, which could lead to serious infections. Fillings also help to reinforce the strength of your tooth so you don't have to worry about any further infections or chipping and cracking.
Gingivitis / Periodontal Disease
Gingivitis, also known as gum disease or periodontal disease, is an inflammation of your gums. Most people deal with gum disease at some point in their lives—if your gums have ever bled after brushing or flossing, that is one of the first signs of gum disease. However, while the mild symptoms make it easy to ignore, gingivitis can lead to bigger problems.
One of those bigger problems is an advanced form of gum disease called periodontitis. When gum disease is left untreated for too long, it develops into periodontitis. Periodontitis goes deeper into your gums, making them pull away from your teeth which can cause your adult teeth to become loose or even fall out. The bones surrounding your teeth are also susceptible to damage and decay when the gums are not properly cared for.
Look for the following signs that you have gingivitis:
Irritated gums that bleed during tooth brushing.
Chronic bad breath.
Receding gums.
The most common cause of gingivitis is poor oral hygiene which encourages plaque to form on teeth, causing inflammation of the surrounding gum tissues.
The earlier you get it treated, the easier it will be to recover from gum disease. We may be able to stop its progression with a simple deep cleaning procedure; in later stages, we may need to give you an antibiotic to take as well.
General Dentistry FAQs
What Dental Problems Should I Ask My Dentist About?
You should call our office for a consultation if you experience any of the following:
Severe bleeding gums when you brush or floss.
Receding gums.
Teeth or jaw pain when chewing.
Persistent bad breath despite regular brushing.
A consistent toothache that doesn't get better with pain relievers.
Red, tender, or swollen gums.
Loose permanent teeth.
Heightened sensitivity to hot and cold.
We want your mouth to be healthy so you can show off your smile, so come see us if any of these problems or any other issue in your mouth is causing you pain or discomfort.
Do You Treat Children?
Our office is designed to treat every member of your family, including children. That way you don't have to schedule different appointments at different offices. You can come in and relax knowing your whole family is getting the dental care they deserve.
Ready To Schedule an Appointment?
Our patients, their needs, and their optimum health are our first concerns and our product is a patient who is satisfied beyond their expectations. We believe in providing an atmosphere where team members may grow personally and professionally. When you come into our office, you are a part of our dental family, and we will treat you as such.
You deserve to have that dream smile and we can help you get it! Schedule an appointment with us in Fairchance today to get started on the road to better oral health in a fun-filled and relaxing environment. Now accepting patients in Fairchance and surrounding areas, including Uniontown, PA to Morgantown, WV and all communities in between.