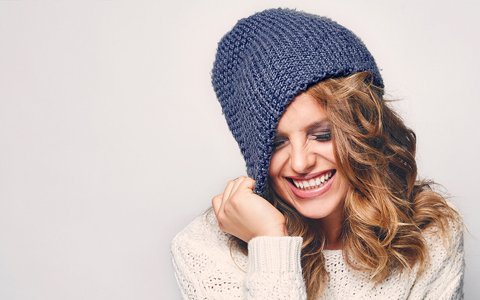 Are you hesitant to laugh or grin? Are you looking for added confidence and a more vibrant impression in your career and personal life? Embody your success with the help of Fairchance Dental Arts cosmetic services. We can support and enhance a healthy, well-groomed image with services for teeth such as:
Repair.
Whitening.
Straightening.
Replacement.
Contact us if you want to find out how cosmetic dentistry can improve your life.
Cosmetic Dentistry Can Boost Your Oral Health!
You use your mouth a lot! You speak, laugh, chew, and smile with your mouth. Your smile is a personal insignia. Has concern for how your teeth appear taken a toll on you? Many people subdue their expression when trying to hide their teeth.
Do you feel pain when you eat your favorite foods? Have you changed your diet or how you bite to avoid discomfort? Jaw clenching, headaches, and avoidable damage to teeth can occur from many issues that are treated by cosmetic dentistry.
Cosmetic dentistry can holistically support you with added physical attraction, healthy jaw motion, spread-out tooth erosion, and a deep, implicit boost to your confidence. You may automatically:
Smile with greater comfort and ease, the universal sign of welcome.
Speak up more—you may be impressed when you find your voice!
Ultimately create more opportunities and emotional connections.
Feel more confident in intimate settings and social gatherings.
Take on more roles that may put you in the public eye.
---
Carry a Winning Smile
Confidence in your appearance supports a more assured disposition. Our friendly staff will help you display the grin of your dreams. Whether you have been living with teeth that are chipped, stained, cracked, crooked, or missing, Fairchance Dental Arts has a safe, routine correcting service for you.
Our services include:
Teeth Whitening: If you take advantage of our whitening treatments, it could give a dazzling gleam to darkened or stained teeth.
Veneers: Our porcelain veneers provide a thin reconstruction for chipped teeth that looks as natural as your original teeth.
Crowns: Get dental crowns to secure and reshape cracked, worn, and chipped teeth so that they will last longer and be stronger for it.
Invisalign® Orthodontics: Orthodontics straighten and reposition crooked, crowded teeth.
Dental Implants: We can replace individual missing teeth by attaching your attractive new tooth to a metal implant.
Dental Bridges: We can replace entire sections of missing teeth with dental bridges that can restore your ability to chew and speak.
You may have been living with your cosmetic issue for so long that you forget it is there. You can improve your daily life through cosmetic services that may change your behaviors, reduce wear on your teeth so that they last longer, and decrease the risk of bacterial infection.
Why Fairchance Dental Arts?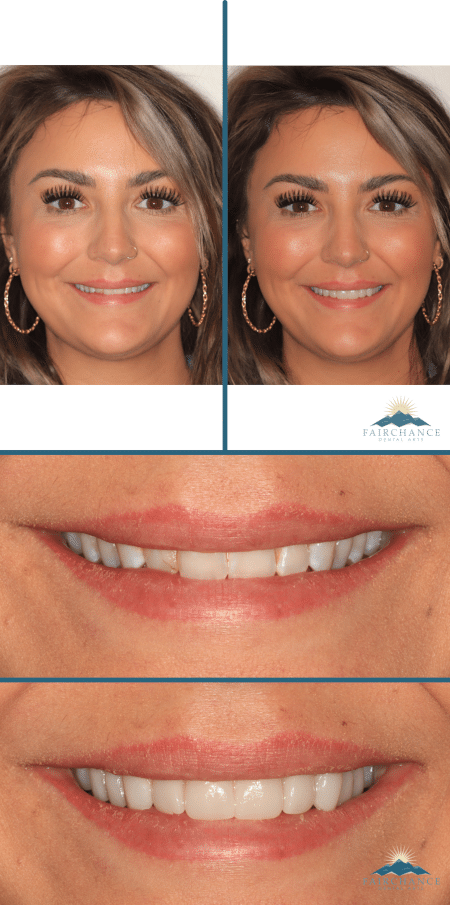 Fairchance Dental Artsis centered on providing quality dental care. We know patients have choices when it comes to whom they entrust themselves with for their oral health care. We consider it a high honor to partner with our patients and provide them advanced dental care.
Fairchance Dental Arts is a modern clinic located in Fairchance, right down the street from the Shop 'n Save. Fairchance Dental Arts intentionally creates an office atmosphere that feels calming and friendly. Each member of our team was selected for both skill and good humor to fill our office with a sophisticated but inviting ambiance.
We offer a lab full of advanced tech. Technology often does a more precise job in many areas, so we have stocked our office with:
3D Imaging.
Diode Laser.
Digital X-Rays.
Intra-Oral Scanner
We invest time in doctor-patient relationships by implementing:
Collaborative planning: Drs. Caleb and Megan Beam cocreate excellent dental care plans with their patients.
Friendly and relatable staff: Our doctors are team-focused and patient-centered. They travel, cultivate family relationships, and develop hobbies outside of the clinic.
Treatment explanations: Patient education empowers preventive care and supports holistic dentistry experiences.
Our dentists have 16 years of experience combined. They perform dentistry work competently and confidently. The Drs. Beam are a husband and wife team that care about making a difference in their community.
Test Drive Your Smile. We offer a "Trial Smile" where, for a minimal fee, we can place temporary veneers to allow you to see what your teeth would look like before committing to permanents. And the fee would be applied towards the treatment cost if you choose to have it done.
Today is the day to schedule your cosmetic dentistry service appointment.
Popular Cosmetic Dentistry Treatments
Teeth Whitening
Teeth may become discolored or stained over the years. Smoking and coffee are common culprits. Whitening does more than paint all teeth the same shade of white. It neutralizes the color of accumulated molecules on your teeth, allowing your natural color to shine through.
At Fairchance Dental Arts, we use whitening materials that have proven dependable and effective after years of testing.
To be considerate of our patients' needs, we've provided several options for teeth whitening treatment including both in-office and at-home treatments so you can get your teeth whitened in a comfortable and convenient location for you.
Veneers
Veneers are ultra-thin tooth coverings bonded to the front of your tooth with dental cement. Veneers are ideal for front teeth because of how thin and delicate the sheets are. Their installation keeps more original tooth material than a dental crown does. You can have one or multiple teeth amended with veneers at once.
Our veneers are very strong and natural-looking. They even gleam like your other teeth do. Our veneers resist staining, so their white color can last you much longer than a whitening treatment.
If you have a chipped or cracked tooth, veneers both correct its look and help to protect it from further damage. Veneers also hide gaps between teeth and crooked misalignments. They can replace tooth enamel that has been eroded, protecting you from cavities.
Crowns
A dental crown is an artificial tooth cover. Like veneers, crowns replace damaged or discolored enamel to protect your living tooth. By closing gaps in your teeth caused by erosion and fillings, crowns prevent bacteria from accumulating in your mouth and potentially entering your bloodstream.
Crowns reshape teeth to be more aesthetic and supportive of healthy bites. Crowns fully encase the entire tooth above the gum line.
Fairchance Dental Arts uses safe materials in our crowns. If you have fillings or crowns made with a mercury alloy, we can safely remove the unsafe material to replace it with healthy options which will match the color of your existing teeth.
Invisalign® Orthodontics
When practicing orthodontics, we want your teeth to both function well and look straight. Crowded or crooked teeth can contribute to a temporomandibular joint disorder (TMD), or pain in your jaw. Orthodontics helps your smile look its best, and correct misaligned bites by guiding your teeth into place.
Fairchance Dental Arts offers Invisalign orthodontic treatment. Invisalign liners are called trays and are worn for two weeks at a time before switching them out with a new tray. Trays do not use any metal, they are clear and subtle. Most people do not know when patients are wearing them.
Dental Implants
Dental implants are a wonderful way to replace one or many missing teeth. A small titanium post is implanted into your jawbone. Once the two fuse together to create a strong foundation, an abutment is attached to the post. Finally, we connect a customized crown, bridge, or denture to the abutment.
The posts are titanium because it is very strong and corrosion-resistant. It is rare for anyone to develop allergic reactions to titanium. These sturdy implants support eating harder foods and their tailored fit supports oral hygiene.
Fairchance Dental Arts assesses each client to determine candidacy for implants, and if oral preparation may be required. We always look for alternatives to surgery first. Unlike many other practices, we can complete the entire implant procedure in our Fairchance location.
Dental Bridges
Dental bridges are artificial teeth, called pontics, held in place by implants or natural teeth, called abutments. Pontics can be anchored by crowns cemented to natural teeth, by frames bonded to the back of natural teeth, or by titanium posts fused to your jawbone.
Bridges can fill the gap of one or more missing teeth, with one pontic per missing tooth. Multiple pontics in a row are simply fused together before installation. Pontics are made of high-quality materials such as porcelain or gold alloys.
Replacing missing teeth can restore and/or protect the following functions of your mouth:
Hygiene against pockets of bacteria.
Alignment of your remaining teeth.
A youthful, filled-out facial shape.
Chewing force and distribution.
Speech and good enunciation.
Your own full set of teeth.
Absolutely amazing!! The staff is super nice, as well as Dr. Megan and Dr. Caleb taking the time to get to know you. They create a positive experience every time! I've never had a problem and will be coming back for years to come.
– Sydney H.
Common Cosmetic Dentistry Questions
Are All Treatments Performed In-office?
Our talented dentists have attended many post-graduate educational classes to be able to provide all of our services in our Fairchance office. This includes dental implants, which are an often outsourced service. We can take care of all your dental needs ourselves, so you don't need to travel to another office or get to know another dentist.
How Experienced Are the Dr.'s Beam?
Dr. Megan Beam and Dr. Caleb Beam have each practiced for eight years. They graduated in 2014, and their experience includes using the safest materials and techniques according to modern dental industry guidelines.
What Kind of Results Can I Expect in a Given Time?
Many cosmetic services require multiple visits to achieve the final effect, including consultations, scans, teeth preparation, and installation. Artificial teeth and caps need to be manufactured between scanning your mouth and installation. This typically takes two weeks.
Orthodontics has a similar process of scanning, and customized tray manufacturing. The whole process can be completed in as little as 6-18 months.
Whitening can achieve your desired result in one visit, lightening your teeth by nine shades. Multiple applications may be required if your teeth are severely discolored.
Depending on what services you select, excellent results can include teeth that are:
Naturally colored to match the rest of your mouth.
Evenly spaced.
Well-shaped.
Straight.
We hope that you will experience a positive transformation through your excitement and comfort when you smile at yourself in the mirror.
How Long Do the Results Last?
Most dentures, veneers, and crowns last between 10 and 15 years before needing to be replaced. This depends on diet, oral hygiene, and the material that the crown, denture, or veneer is made of.
Alloys and Porcelain last the longest, while Resin wears down more quickly. Eating softer foods and brushing regularly will help your dentures, crowns, or veneers last the longest.
Whitening results can last from six months to three years. The length of time will be lessened by smoking, drinking, or eating staining foods such as coffee or intensely dyed food.
How Much Does Cosmetic Dental Treatment Cost?
The cost of investing in your smile depends on both your unique situation and the type of treatment needed. Dental insurance coverage for different cosmetic dentistry services varies, and that also impacts the final value paid by our patients.
Keep in mind that each treatment will also come with a different set of perks for a comparable cost. Such examples include:
Teeth Whitening | Whitening is the lowest initial investment, where each session lightens teeth about nine shades, so you get great results for a small payment. Whitening may need to be repeated to achieve the desired color.
Porcelain Veneers | Veneers cost more than whitening, but they resist staining and also cover cracks and chips, so you get more results for your money. Veneers also last much longer than tooth whitening, so you can have the results you paid for forever.
Dental Implants | The cost of implants includes oral surgery to secure the titanium post and the materials used in the post's abutment and artificial teeth. They can seem pricey, but the value of a tooth-like replacement that lasts a lifetime is immeasurable.
Cosmetic Dentistry Improves More Than Your Looks
Cosmetic dentistry treatments can correct jaw pain, protect against infections and a misaligned bite, and help you to feel much more comfortable and confident when you eat, speak, and smile.
We will care for your comfort, safety, and whole-body health when you trust yourself to Fairchance Dental Arts's seasoned and educated team. Contact our friendly staff today to begin your transformation!