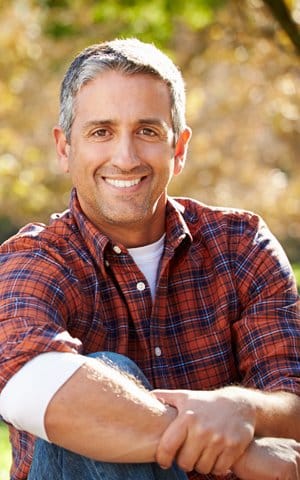 We often cringe at the thought of traditional dentures. Many people would rather go without teeth than risk looking old or foolish. Fortunately, modern dentures don't share any of the drawbacks we have often seen in comedies and cartoons.
These days, dentures look exactly like natural teeth. They are carefully designed to fit your mouth so well, you'll forget they aren't your own. Even modern adhesives are better than ever. So are implant procedures. All of this makes dentures a great choice.
We offer various denture treatment options:
Implant-supported dentures
Just as a single synthetic tooth may be attached to an implanted root, so too can a set of dentures be secured into the mouth. They are maintained just like natural teeth, and allow full range of function. Fixed implant dentures come in two types:
Permanent All-on-4 dentures: The All-on-4® Treatment is a very lifelike set of dentures held securely and permanently in place on just four strategically placed dental implant posts. Dentures anchored with All-on-4 implants are long-lasting, durable, look and feel just like natural teeth, and will never slip or slide during dinner. This concept allows for faster healing and smile restoration time. With fewer dental implants placed, we are able to quickly restore the new denture appliance. Implanted dentures are as permanent as single implants.
Snap-in dentures: Snap-in dentures are implant-supported dentures that look and feel like traditional, removable dentures. While traditional dentures rest on the gum line, snap-in dentures stay in place through dental implant posts that are surgically placed into the jaw at specific areas to support the dentures, which are "snapped" into place using the posts. There's no shifting or rubbing because your implants keep the appliance securely in place and they can be removed when you go to sleep or for other needs. Snap-in dentures are great for patients who want to stabilize their existing denture or have extensive bone loss in their jaws.
Partial dentures
Partial dentures replace stretches of missing teeth that may not be suitable for other replacement options. Bridges, for example, require healthy teeth on either end of the gap. Partial dentures solve this problem in two ways:
Permanent partial dentures will be secured to dental crowns or implants on either end, just as full implant dentures are.
Removable dentures work something like a retainer, snapping in and out of place when needed.
Full traditional dentures
Traditional dentures are, just as they sound, a full set of false teeth. Missing teeth—especially multiple missing teeth—can cause many lifestyle difficulties. Chewing becomes a laborious process, and speaking clearly is incredibly difficult. These beautiful, custom-designed synthetic teeth will have you eating and speaking perfectly in no time.
Don't Wait to Call
You denture options are many and varied. With so many choices, Fairchance Dental Arts will have no trouble coming up with the perfect set of dentures for you. You'll speak easily and eat properly once again, restoring your quality of life. You deserve a healthy mouth. Don't hesitate to call us today!
Fairchance Dental Arts will repair or replace the above work done for a period of 60 months from the date of insertion. This applies if the restoration has failed or has been determined to be unsatisfactory by both the patient and the dentist. This policy will only be upheld if the patient has maintained the proper recall that is appropriate to his or her customized care.
I have been avoiding visiting the dentist for nearly a decade. It's awful I know, but we all have at least one thing that turns us into big babies! I have now visited the Drs Beam twice and they, along with their truly awesome team of real professionals, have completely changed the way I view visiting the dentist. I am genuinely excited to get my oral health back in order and I never thought those words would leave my mouth! Major kudos to the fantastic Beam Team. If they can change the way this big baby views the dentist then they can absolutely do the same for you. Not to mention that you'll completely forget where you are when you see all of the nifty toys they use to keep your oral hygiene in tiptop shape! – Thanks, folks!
– NAME