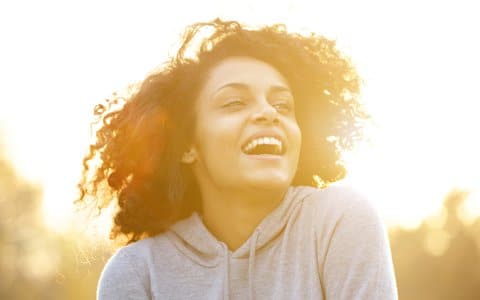 Everyone wishes they had a perfect smile. Flawless grins are something very few people are born with, but lucky for you, Fairchance Dental Arts can make a pristine smile for you! Dental veneers can cover blemishes on the front of your teeth and make your smile fit for Hollywood!
Porcelain veneers are individually crafted for patients according to the shape and color of their existing teeth. With Fairchance Dental Arts, your veneers can match your smile perfectly and even improve how your whole face looks.
Ready to make some changes to your smile? Drs. Megan and Caleb Beam are here to help you get the smile of your dreams. Schedule an appointment today to get started on your porcelain veneer journey.
Turn Your Frown Upside-Down!
If you are unhappy with your smile, you're not alone. Many people struggle to feel confident about showing their teeth. Veneers can help make family pictures easier! Veneers address many common dental problems:
Tooth Stains. The sparkling white surface of your veneers will cover any stains on your teeth.
Cracked Teeth. If any of your teeth are cracked, veneers can smooth over those cracks and create a beautiful new finish for your teeth.
Stunted Teeth. When teeth are smaller than they should be, veneers can add to them and make them the proper size.
Broken Teeth. In many cases, broken teeth can be fixed with a simple porcelain veneer placed over the front of them.
Smile Embarrassment. If you have any irregularities in your smile, a set of veneers can make the whole thing uniform and beautiful.
Helping Our Patients Beam With Confidence
Gain your confidence back with beautiful porcelain veneers. Veneers are thin tooth coverings that quickly change the way a smile looks. They cover and protect teeth with the following conditions:
Discoloration.
Chips.
Fractures.
Unattractive shape.
Veneer treatment is a safe and effective procedure. The steps are usually simple and quick, which helps busy parents get the same results as braces or whitening treatments with fewer office visits.
You can overcome smile embarrassment easily with veneers. Their porcelain material can be matched to the color of your teeth. They're strong, durable, and last for years! They can change almost any smile into a perfect grin!
Why Choose Fairchance Dental Arts for Your Veneers?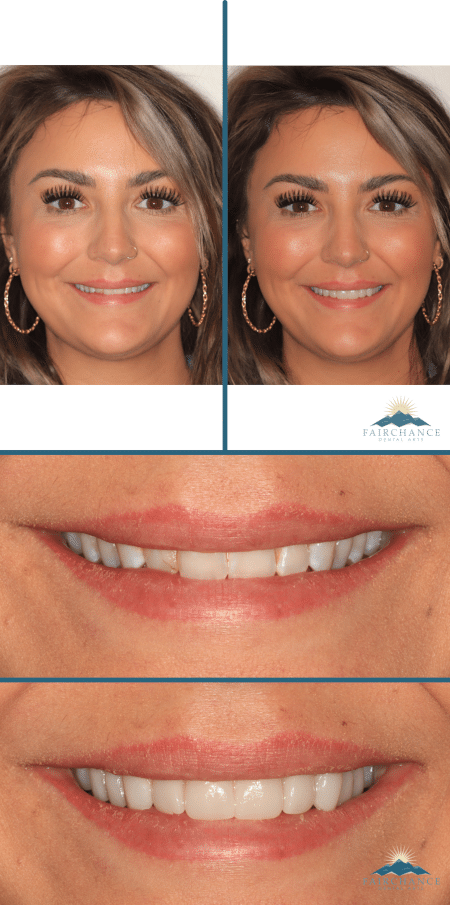 Test Drive Your Smile. We offer a "Trial Smile" where, for a minimal fee, we can place temporary veneers to allow you to see what your teeth would look like before committing to permanents. And the fee would be applied towards the treatment cost if you choose to have it done.
Our dentists are excellent at placing veneers, but that's not all we do here at Fairchance Dental Arts. Dentistry is an important part of overall health. As part of a comprehensive dental care program, Drs. Caleb and Megan Beam offer a wide variety of preventive and routine dental services.
We understand both adult and children's teeth and oral needs, and how each stage of their oral growth fits into the big picture of their lifetime healthcare.
We regularly practice pediatric and adult dental services:
Cleanings.
Fillings.
Veneers.
Crowns.
Dental implants.
Emergency services.
Root canals.
Sleep apnea treatment.
TMJ/TMD treatment.
We keep our office fun with friendly staff and a welcoming environment to make all of our patients feel comfortable with us. Schedule an appointment with us today for a fun dentistry experience.
What Are the Benefits of Porcelain Veneers?
Beautiful Smiles. Veneers have a very natural look that will match the texture and color of the rest of your teeth. Most people won't even be able to tell they are there. They can fill in gaps and make teeth look straighter, too.
Safe for Gums! Porcelain is a gum-friendly material! Even the veneer procedure won't irritate your gums much. The whole process focuses on rejuvenating and repairing your teeth; your gums won't notice a difference.
No More Tooth Stains! Veneers instantly brighten and shape the front teeth. As a bonus, they are stain resistant for the long haul. You can have your beautiful white teeth for years to come, no teeth whitening necessary!
Comfort and Health. Once veneers are installed, they will feel much like the original tooth on your tongue and cheeks. Veneers are cleaned the same as natural teeth, so you will be able to keep your usual brushing habits and experience success.
Simple Procedure & Easy Recovery. Veneers are very non-invasive compared to implants or bridges, which are different options to replace a defective tooth or teeth that our patients may consider. Veneers do not affect or alter your jaw bone, gums, or neighboring teeth.
No More Imperfections. Veneers look brilliant but also protect the teeth beneath them. They block bacteria from entering the inner tooth. They encase cracked teeth to hold them together. Once veneers are in place, you will be able to drink, bite, and eat confidently again.
What To Expect During Veneer Treatment
Veneers are a great option for patients who want to improve the appearance of their smile. With veneers, Drs. Caleb and Megan Beam can help your smile become more attractive and functional again. When you choose a veneer treatment process with our practice, you can expect high-quality cosmetic dental care with professional, reliable methods.
Consultation and Choosing Veneer Treatment
Visiting our office to discuss veneers with Dr. Caleb Beam or Dr. Megan Beam is the first step. This appointment will include a comprehensive exam to evaluate your health and make sure veneers are the right choice for you. We will create a treatment plan, take impressions for tailored veneers, and schedule your tooth preparation appointment.
The exam and impressions may use the following devices:
Digital x-ray machine.
Intraoral camera.
3D imaging technology.
Tooth Preparation
Your next appointment will be a quick one. To attach your veneers, your teeth need to be shaped so the veneers have enough space in your mouth. The shaping process is relatively painless and should take about 30 minutes to an hour.
Veneer Creation
You'll be given temporary veneers in your tooth preparation appointment because it can about two weeks for your permanent veneers to be ready. Each veneer is custom-made for your teeth so that they will accentuate your smile and your face.
Veneer Bonding
The veneer bonding period is when instant results are seen. Once the veneer is ready, we will cement it in place using a special dental adhesive. It is safe to use in your mouth and is strong enough to last for years.
We will make sure your veneers are set just right for a natural and beautiful smile. After assessing the fit and comfort, the dentist may slightly reduce or refine the edges of the veneers for a more perfect fit.
Aftercare and Maintenance
You won't need to take special care of your veneers after they are placed. Once veneers are installed, you can live life normally:
Eat what you'd usually eat.
Brush your teeth twice a day.
Floss your teeth daily.
Visit the dentist every 6 months.
Wear a nightguard if needed.
We do our best to make sure that the material matches your bite perfectly the first time. However, after living with the veneers for a while, if something doesn't feel quite perfect, you may come back in for a small adjustment.
Veneers work by covering an original tooth with a thin shell. Since the tooth is being covered, blemishes such as stains or chips are instantly hidden and replaced by attractive, natural-looking material. We achieve these awesome results in-office with little to no discomfort for you. You can immediately show off your new smile to your family and friends.
I have visited with Dr Caleb and Dr Megan in the past. I've had plenty of cleanings as well. It has always been a good experience. When I went in for some extensive work on my front top teeth, I was even more impressed. I was surprised to feel ZERO pain with the Novocaine injections. The work went very smoothly and I left feeling confident and ready for my next visit.
– Jim D.
Common Veneers Questions
New to veneers? No problem. Below are answers to questions you may have. Take your time to decide if veneers are right for you. It's not a decision to rush into, but if you struggle with feeling confident with your smile, veneers could make a huge difference in your life.
Are Veneers Painful?
While there is no pain during the application process, there may be some discomfort while your teeth are being prepped. During the veneer process, the dentist may provide a local numbing agent to make sure you're comfortable.
Once the veneers are on, they will feel just like your regular teeth. The only pain you'll feel is if you bite into something hard.
Are There Any Disadvantages to Veneers?
Veneers are permanent: Veneers are not reversible. Each tooth with a veneer must be prepared to make room in your bite for the adhesive and veneers. The tooth will always need a veneer to provide enamel protection and to look its best.
Some lifestyle adjustments are required: Just like a natural tooth, veneers can break. Strong things tend to be brittle. If you grind your teeth, clench your jaw, or chew on hard things like pencils, then veneers may not be a good fit for you.
Veneers can be pricey: Veneers are not often covered by insurance because they are a cosmetic service. This can make them cost more than a tooth extraction or other dental treatments. Fairchance Dental offers payment plans to help make dental treatment accessible.
We can't change the color of veneers after placement: Veneers cannot be whitened further like original teeth. If you want to whiten your back teeth, you should do that before applying veneers to your front teeth. We can make the veneer colors match after that.
Replacements are necessary: Veneers will wear down over time; they need to be replaced regularly. Replacement is preventive maintenance to keep the seal on your tooth airtight. You should get replacement veneers every 10-15 years.
How Long Do Veneers Last?
Porcelain veneers generally last between 10-15 years depending on the patient's lifestyle. Take extra care to not grind your teeth or chew on pens or fingernails. Veneers can break if they are put under too much strain.
When Should I Get Veneers?
Veneers can be used for anyone unhappy with their smile. They are generally better for more severe cases of stains, cracks, or breaks. Anything needing more than teeth whitening or a bit of dental bonding to fix.
Check with our dentists to find out if veneers are right for you.
Who Are Ideal Candidates for Veneers?
A veneer may be a perfect fit for patients with damaged or extremely stained front teeth. Veneers need teeth secure enough to support them as a foundation. If decay has affected too much of the tooth to have material left after the infection has been cleaned away, we may not be able to install a veneer. Drs. Megan and Caleb Beam are both capable dentists who can help you find out if you should get veneers.
How Much Do Veneers Cost?
Porcelain veneers are high-quality tooth restorations that can improve your quality of life. While many parents are often worried about the cost, veneers don't have to be expensive. Dental insurance may cover veneers for tooth repair.
To help our patients, Fair Chance Dental accepts most major insurances and offers monthly payment plans through Sunbit and Care Credit.
Do Veneers Require Special Care?
Regular brushing and oral hygiene are always important. When you visit our office for regular cleaning we will check on your veneers to make sure they are still comfortable, undamaged, and sealed perfectly.
If you know you grind your teeth, be sure to wear your bite guards. Avoid chewing on anything that isn't food to prevent damaging your veneers.
How Do I Find a Porcelain Veneers Dentist?
Many dentists offer veneers of some kind. To get the highest quality veneers, you need to turn to a cosmetic dentist like Fairchance Dental Arts in Fairchance, Pennsylvania. Drs. Megan and Caleb Beam both have many years of experience placing porcelain veneers.
Ready To Schedule?
Fairchance Dental Arts can offer you a smile like you've never imagined. We have an incredible team ready to serve you and your family. Our comfortable office is stocked with all the essentials and even some amenity perks to help you feel at home with us.
Stunning white teeth that are perfectly aligned and evenly spaced are waiting for you! Get your porcelain veneers by scheduling an appointment with Fairchance Dental Arts today!