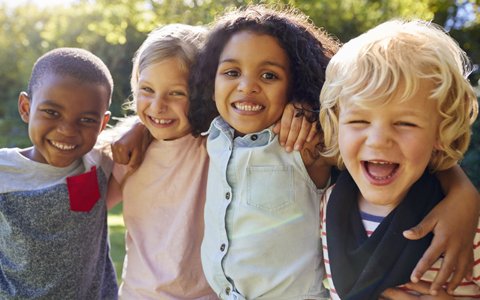 They say that a picture is worth a thousand words, but a picture with a happy smile can tell you even more. For example, if you look at school pictures or a scrapbook of baby pictures and see great smiles, it tells you that pediatric dentistry has done a fine job in protecting those new little smiles!
Pediatric dentistry can be the foundation for a lifetime of happy smiles and good oral health.
Why Is Pediatric Dentistry Important If We Get Adult Teeth?
While it is true that our primary teeth (also known as baby teeth or milk teeth) are eventually replaced with our adult teeth, that doesn't mean our childhood and adolescent years don't benefit from pediatric dentistry.
You see, the foundation of our dental health is set in our formative years. A good dentist will be able to monitor and ensure that the adult teeth will come in easily. For instance, dentists can help parents take steps to help their children avoid common issues like dental crowding or bite issues.
In short, just because we lose our baby teeth doesn't mean we can't benefit from dentistry at an early age!
Common Questions About Pediatric Dentistry
At Fairchance Dental Arts, we understand that parents want to be informed about their children's dental health and oral health needs. Here are answers to some of the most frequently asked questions about children's dentistry.
Question: Why Choose a Pediatric Dentist Over a Family Dentist?
Answer: The world of dentistry is much like any medical profession in that there are a lot of different specialties. Just as a family dentist would recommend an orthodontist for certain treatments or an oral surgeon for others, pediatric dentistry is its own focus in the dental industry.
Question: When Should a Child's First Dental Visit Be?
Answer: A great rule of thumb for when to take your child to the dentist is "first visit by first birthday." However, it may be recommended sooner if you are noticing any excessive discomfort from teething or have a family history of dental issues (such as bite issues).
Question: At What Age Should I Worry About Tooth Decay?
Answer: While it may be surprising, tooth decay can be an issue for children of any age. Often called "baby bottle tooth decay," this condition can affect children who are just beginning to teeth. It's a reminder we always have to stay vigilant when it comes to dental health.
Question: How Can I Help Prevent Dental Issues During Infancy?
Answer: Prevention is a key approach to maintaining dental health, no matter what age. To help avoid any issues like baby bottle tooth decay, purchase a toothbrush made for infants and softly brush their teeth. Also, encourage drinking from cups by their first birthday to nurture healthy saliva production which helps protect teeth.
Question: Does Thumb Sucking Affect Teeth or Is That an Old Wives' Tale?
Answer: While it may sound like an old superstition, excessive thumb sucking can lead to oral health concerns later in life. These issues are often bite-related. Thumb sucking can cause crowded teeth, misaligned jaws, or speech issues. If thumb sucking is still a habit by the time permanent teeth arrive (around age 6), a dental appliance may be recommended.
Contact Fairchance Dental Arts for Your Child's Dental Needs
We want Fairchance Dental Arts to be your child's home for a beaming smile. Our pediatric services can set your child up for healthy development of adult teeth.
For more information or to schedule an appointment, contact our office today. We are available over the phone or through email, or you can book an appointment online.