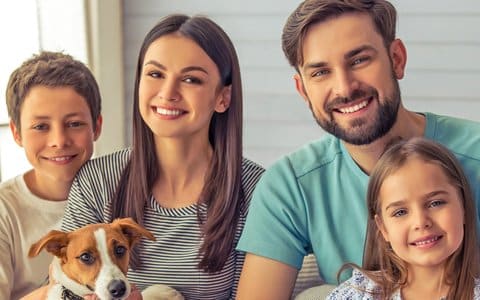 Cosmetic dentistry includes highly desired services for those who want to improve their smile and oral health. Cosmetic dentistry is not just about creating an aesthetic smile. It can help support your overall physical and mental health.
If you suffer from crooked teeth, a deep bite, missing teeth, or a crooked jaw, cosmetic dentistry can help you improve your appearance, bone health, and bite biomechanics.
A good smile also inspires the confidence to speak, smile, laugh, and eat a variety of foods in the company of others. This article will help you understand what cosmetic dentistry is, how it works, and the benefits for you and your family.
What Are the Benefits of Cosmetic Dentistry?
When your oral health is faced with a challenge that regular brushing and flossing cannot overcome alone, cosmetic dentistry procedures may be the solution. Cosmetic dentistry can offer:
Tooth protection.
Restored tooth functionality.
Enhanced beauty.
Increased confidence.
Healthy jaw bones & joints.
Restored diet and lifestyle.
Improved dental cleaning ease.
Many cosmetic and bite issues build up and compound over time, so make sure to schedule your cosmetic dentistry appointment soon, so you can get the most benefit from it.
How Cosmetic Dentistry Can Support Oral Health
Cosmetic dentistry are procedures that are done to improve the look of a person's smile, but cosmetic treatments can contribute to dental health as well.
For instance, some procedures are inherently both cosmetic and functional:
Veneers.
Dentures.
Dental implants.
These treatments fill in your smile, replace protective enamel, and keep your bones stimulated to stay dense and strong. They give your whole face a healthy 'filled in' and youthful appearance.
Cosmetic Treatments With Health Benefits
Whitening: A cosmetic dentist can remove stains and do a teeth whitening procedure to make your smile whiter, and that may motivate you or a loved one to brush more often to maintain your new look.
Orthodontics: Another way that cosmetic dentistry can help your oral health is by correcting a crooked smile. A cosmetic dentist can straighten your teeth and fix any other dental issues that could be causing you pain when you chew. Straight teeth are easier to clean, which helps prevent gum disease and cavities more effectively. Gum disease is a bacterial infection that can spread to other parts of your body, so reducing its risk is protecting your overall health.
The benefits of cosmetic dentistry are many and can make a big difference to your oral health. Maintaining the health of your gums, teeth, and mouth is important for maximizing the benefit and longevity of any cosmetic dental procedure.
What Are the Types of Cosmetic Dentistry Procedures?
There are many different procedures that cosmetic dentists offer. Some of these include:
Teeth whitening.
Orthodontics.
Teeth bonding.
Dental Implants
Crowns and Veneers.
Bridges and Dentures.
Each procedure has its own set of benefits. If you are interested in cosmetic dentistry, Drs. Caleb and Megan Beam are happy to discuss options with you in a consultation visit. You can also explore services on our website to see which one sounds best for you.
What Is a Cosmetic Dentistry Consultation Like?
Fairchance Dental staff will examine your teeth and gums and discuss any concerns with you. We will then give you information about the treatment plan for your teeth and gums. We will also talk about the type of materials that will be used during the treatment and the expected costs. Fairchance Dental Arts accepts most major insurance plans, and we offer a monthly payment option through Sunbit.
Ready For a Beaming Smile?
If your smile needs some touchups, Fairchance Dental Arts is here to help. Our fantastic cosmetic dentists will send you home with a beautiful smile that you'll love! Schedule a consultation with us today.