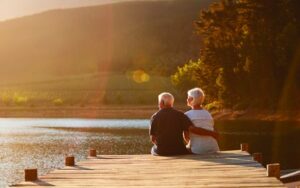 Each year we get a little bit older and a little bit wiser thanks to all the ups and downs we experience. With our senior dental care, it is not only possible for seniors to keep sharing full, beautiful smiles in their golden years, but a major health benefit as well!
And yes, you are still encouraged to read this article even if you are too young to qualify for a discount for early bird specials at the local diners. What we will be discussing may help with dental decisions concerning elderly loved ones like grandparents or even inform future choices for your oral health care.
Senior Teeth by the Numbers
A lot of emphasis is put on senior dental care for one simple reason: the numbers are concerning. According to the Centers for Disease Control and Prevention (CDC), 17% of adults will have lost at least one permanent tooth before their 20th birthday. However, that number compounds each year.
69% of people will have lost permanent teeth by age 35! According to multiple studies done by the National Institute of Dental and Craniofacial Research (NIH), this gets far worse once you reach age 60. According to their research, the average dental patient of age 65 or older is missing 11 teeth. More alarming is the fact that 17% of dental patients in this age range are missing all their teeth.
Why Are Seniors Missing So Many Teeth?
When looking at the numbers provided by these expansive studies, alarming can be the first word that comes to mind. A few other questions also spring to mind such as why are so many seniors missing so many teeth? Will I end up missing teeth as I get older? Is this preventable?
Unfortunately, like so many conditions in the medical field, many contributing factors make explanations complex and dense. However, we will do our best in this blog to break them down in a straightforward manner.
Some circumstances that contribute to tooth loss can be outside our control like genetics or dental trauma from an accident. Others we can manage like practicing good oral hygiene and routine dental exams. However, according to the CDC, most seniors seem to be losing their teeth to dental decay in a vicious cycle.
The Cycle of Senior Tooth Loss
Your teeth have worked hard for you your entire life by chewing and keeping your jaw strong and your facial muscles healthy. They also protect our gums from harmful bacteria thanks to the hard white tissue known as enamel. However, enamel is mostly mineral, meaning that it cannot naturally heal; once it is gone, it is gone.
By the time you are a senior, your teeth have worked incredibly hard and the enamel has weakened, leaving a tooth more vulnerable to a variety of damage which can result in tooth loss. And when you lose a tooth, you now expose your gum to that harmful bacteria which can lead to gum disease and tooth decay, creating a vicious cycle of putting your remaining teeth at risk!
Not only that, seniors with gum disease also run the risk of increased heart disease, higher blood pressure, dementia, type 2 diabetes, and stroke!
Keeping a Full Smile at Any Age
It is perfectly okay to be concerned about your dental health at any age, but keep in mind you can have a full smile at any age thanks to your friends at Fairchance Dental Arts. We combine the latest in dental techniques with advanced tooth replacement technology, giving you plenty of treatment options to restore your smile.
We can replace a single missing tooth with a dental implant or several missing teeth with a dental bridge. We can give you a brand new smile with full implant dentures that can be permanently set or removable. The choice is yours! We even offer the latest models of traditional dentures for those who prefer a classical approach to tooth restoration.
Call Today for Your Senior Dental Care Consultation
If you are a resident of Fairchance, PA, or one of the wonderful surrounding communities like Uniontown or Morgantown, you already know our office is your home for a Beaming smile. No matter what age you may be! At Fairchance Dental Arts, we can take care of your first cavity, your first set of braces, or your first pair of dentures.
Call today to schedule your consultation.