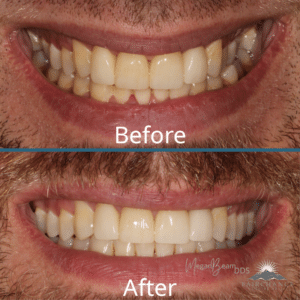 Orthodontics is a dental specialty that deals specifically with the alignment of the teeth and jaw. There are several problems that can be addressed through orthodontia.
Severe Over/Underbite | When the teeth don't align closely enough, activities as simple as chewing become much more difficult. Speaking is inhibited as well.
Overcrowding | Overcrowding happens when there's not enough space for all of the teeth. This lack of jawbone space causes adult teeth to grow in crooked or not at all.
Aesthetic Issues | Orthodontia addresses dental imperfections such as severe gaps and teeth that have grown in twisted, crooked, or not at all.
All of these things can be treated through such measures as braces, headgear, face masks, and retainers.
Invisalign
While traditional braces are a time-tested, well-used, and effective method for treating orthodontic problems, they certainly aren't the only option. Invisalign offers the chance to straighten teeth with several significant benefits over wire and brackets.
Invisalign clear aligners are made from a comfortable medical plastic that is completely transparent.
No regular wire adjustments are required. Simply take out one aligner and slip on the next in the series.
These aligners are completely removable, making them easy to clean and maintain.
They can be safely worn during nearly any activity, whether it be dinner, a sporting event, or giving a speech.
Invisalign takes only half the average time of traditional wire braces.
What is Interceptive Orthodontics?
In the past, children were only advised to begin any kind of orthodontic treatment after all the permanent teeth had come in. Now, however, many dentists recommend consultation with an orthodontic specialist no later than age seven.
This is all part of a preventative measure known in the industry as Phase 1 Interceptive Orthodontics. It is an attempt to intercept and correct problems before they become permanent in the tooth and jaw structure.
This includes making sure there is enough room for the permanent teeth to grow properly, guiding the jaw's development in order to achieve proper alignment, and reducing any need to pull or alter permanent teeth.
If these things are done while the jaw and teeth are still developing, it makes the entire orthodontic process both easier and more effective.
See How Invisalign Can Improve Your Smile
Are you wondering how Invisalign could improve your smile? Would you like to see what your smile would look like with straighter teeth or how your bite can be better aligned? We provide a smile simulator that you can use to see how an Invisalign treatment can improve your teeth. Check out this Smileview simulation link to see now for yourself.
Come to Fairchance Dental Arts for all of your orthodontic needs.
A straighter smile is possible. Contact us today to discuss what's possible for patients from Morgantown WV up to Uniontown PA.
All orthodontic services are provided by a general dentist with extensive post graduate training in orthodontic care.